2006 Suburu STI - Hankook W300 Ice Bear performance winter tire - 9100 km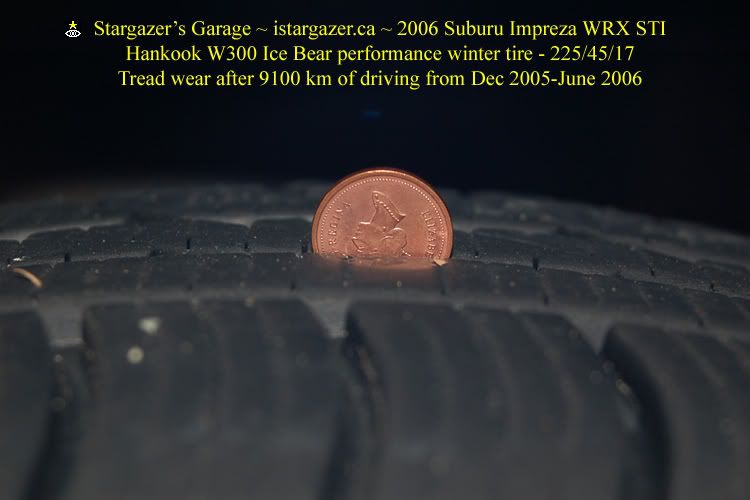 I was taking a closer look at the new Hankook Ice Bears I bought for our Honda Odyssey and compared them to the ones that I had on our Subaru Impreza WRX STI from last year and I have to retract the things that I said about tread wear.
I had to keep the winter tires on the STI through to hot weather because my summer rims didn't arrive until late June. I always thought despite that, the tread wear was very minimal even with the hard driving I'm known to enjoy. But upon closer inspection, I noticed that there were two tread-wear bars: one regular for normal (legal) traction, and one for winter traction. Obviously, the winter tread-wear bar is much higher because you need that to get traction in snow. After over 9100 km of driving, I'm very close to that bar right now and I can only forecast about 1 or 2 more winter seasons of use. Hopefully it will be longer because there's no need for me to ride on them through the spring.

For that reason, I'm reluctant to put the new winters on the Honda since the weather has been quite warm lately. I'm trying to hold off until some time during the Christmas holidays, but temperatures are predicted to drop again with some snow flurries in the forecast for this weekend.